In January and February 2019, All Australian Journeys' Canberra Art Tours will be overnight bus trips from the Hunter and Sydney—with the focus on Love and Desire, the exclusive exhibition of Pre-Raphaelite masterpieces on loan from one of the world's most famous art galleries, Tate Britain.
So what makes this exhibition worth an overnight bus trip to our nation's capital? We answer your questions, as well as some you didn't know you had.
Can I have a quick explainer on the Pre-Raphaelites?
Not just another art genre, the Pre-Raphaelites were a secret society of young artists (and a writer) from the mid-19th century. Their name refers to Renaissance painter Raphael and the group's revolt against society, the establishment and the style of painting promoted by the Royal Academy of Art.
Like every good art movement, they were initially controversial and opposed by the masses, but grew to become highly influential. Taking serious themes and treating them with maximum realisim, they began with religious themes, literature and poetry, themes of love, death and modern social problems.
Flouting convention, the artworks feature brilliant colour, meticulous detail and exquisite layering.
Some big names in Pre-Raphaelite art were Dante Gabriel Rossetti, John Everett Millais and William Holman Hunt.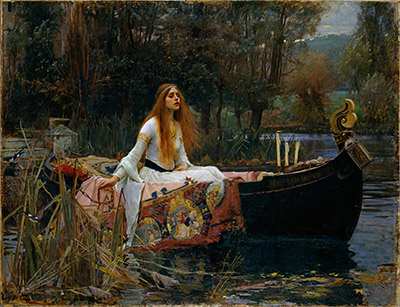 What will be on show at the National Gallery in Canberra?
The exhibition features 40 of Tate's most famous Pre-Raphaelite works, alongside 40 more pieces on loan from other British and Australian collections. Rarely lent, many masterpieces from the Tate have never been seen before in Australia.
You'll also have time to explore the permanent exhibitions of the gallery, including more than 160,000 works of art across four main areas: Australian art, Aboriginal & Torres Strait Islander art, Asian art and European and American art.
Why are there so many redheads?
You may have noticed that many of the Pre-Raphaelite works feature beautiful redheaded females—so is it true that redheads have more fun than blondes?
Not necessarily the flavour of the time, the artists were infatuated by red-headed models, with Rossetti in particular discovering his muse in Elizabeth Siddal, the first supermodel. She showcased a new chapter of beauty—tall, graceful, long neck, erect posture and flowing red hair.
The art from the Pre-Raphaelites probably changed the destiny of redheads everywhere, starting a new trend of beauty. Well respected ladies of the time traditionally wore their hair up, often covered in public, with flowing hair reserved for the husband's eyes.
Red hair is now a clue to a fiery woman, who is wild or otherwise dangerous.
Why is Tate a leader in Pre-Raphaelite art?
Henry Tate was an industrialist who provided funding—and his collection of 19th century art—to the nation of Britain. He was a patron of Pre-Raphaelite artists, and his bequest of 65 paintings included Ophelia 1851-2 (John Everett Millais) and The Lady of Shallott 1888 (J.W. Waterhouse). The bequest was initially turned down because there was not enough space in the gallery.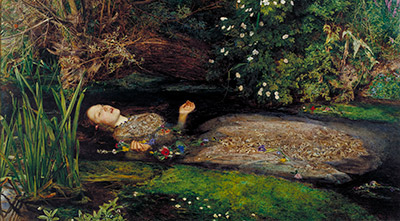 What is Australia's connection to Tate Britain?
Tate Britain was originally known as the National Gallery of British Art, built on the site of the Millbank Penitentiary—originally a departure point for sending convicts to Australia.
What are some of the other highlights of the Canberra Art Tour with All Australian Journeys?
A picnic lunch in Bowrall's Corbett Gardens—stop for a break in the beautiful, leafy gardens.
Relive history at the National Film and Sound Archive of Australia—be amazed at how the moments of our history have been captured, including films, television and radio programs, videos, audio tapes, records, CDs, phonograph cylinders and wire recordings. Discover documents and artefacts such as photographs, posters, lobby cards, publicity items, scripts, costumes, props, memorabilia, oral histories, and vintage equipment.
Read the detailed itinerary here and check our departure dates, or contact us to book.
References:
https://nga.gov.au/lovedesire/
https://www.tate.org.uk/about-us/history-tate
https://artuk.org/discover/stories/why-are-artists-infatuated-with-red-hair
https://www.telegraph.co.uk/culture/art/8395330/Flaming-libertines-Dante-Gabriel-Rossetti-and-his-muses.html